Actually, we just wanted to find an excuse to go out for dinner. Since everybody has been coped up at home, rushing with design. We don't really celebrate Halloween anyway =S
Was bad that we didn't made any reservations beforehand, even worst when we decided to just spontaneously go for a 15 pax dinner on a Saturday. -_- Do you know how hard it is to find seats for 15 ppl during dinnertime on a Saturday?? lol. Took us half and hour searching for a restaurant, ended up at Nandos, which was better than Pizza Hut I guess? =P
Nando's @ Puchong IOI Mall.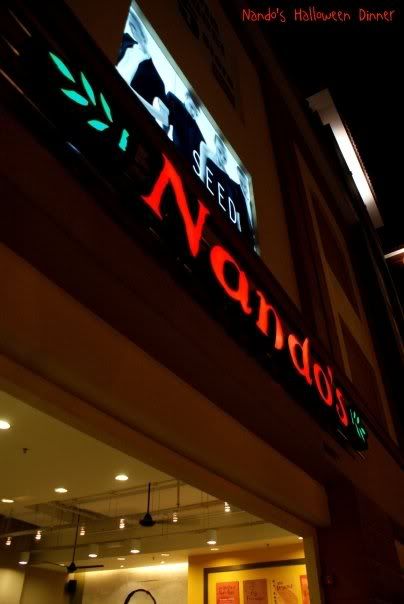 (Sorry, but I hate their service! Kept calling them to refill our drinks, called for 5 times and all was like 'ok refill right? will get back to you' and just walked away, and never came back. -_-
So pissed off!
I straightaway took my cup to the counter and ask them to refill, PLEASE. So polite use please and u know what the waiter said?? 'Can't you see I'm busy??' Made, busy serving customers right? I'm not your customer ah?? Seriously. I couldn't think of a snappy remark at that time, so I just stared at him and placed my cup on the counter. He insisted that I went back to my seat and he will 'get right back to me'. Eh wei, the soda machine just right beside you and your peri-peri chicken damn hot ok! You lazy, then I go and refill myself lah, no big deal, save your energy time and effort. -_- Anyway, at the end he still help me refill my Sprite but with a fed up face. (we ordered Sprite in the first place and they kept giving tasteless SODA for 2 times. Thus we had to throw the soda to the vase beside us cause it tastes disgusting.) Purposely refilled till overflowing for me, ok, thank you lor. Mr Skinny malay waiter. Too bad I didn't get your name to thank you here.)
lol. sorry got a bit carried away. I just hate bad services. I'd rather have so-so food and great service than delicious A grade food served by rude waiters/waiteress. -_- No matter how nice it tastes, your mood will totally be spoilt by rude people, summore have to pay them service charge again... *grumbles*
haha.. ok ok. no more complaining already! on to more pictures!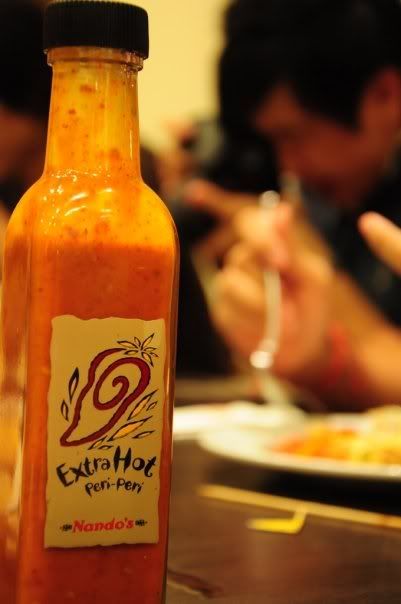 See not, EXTRA HOT ok.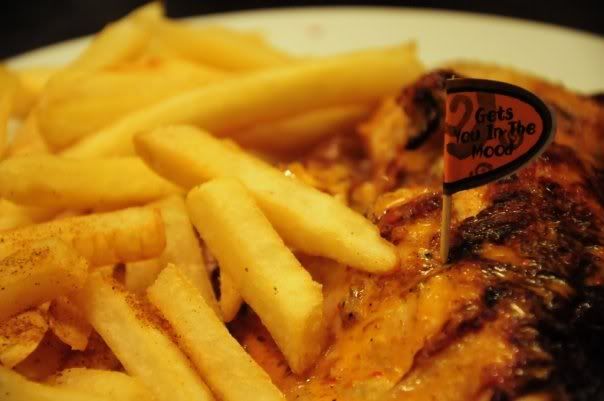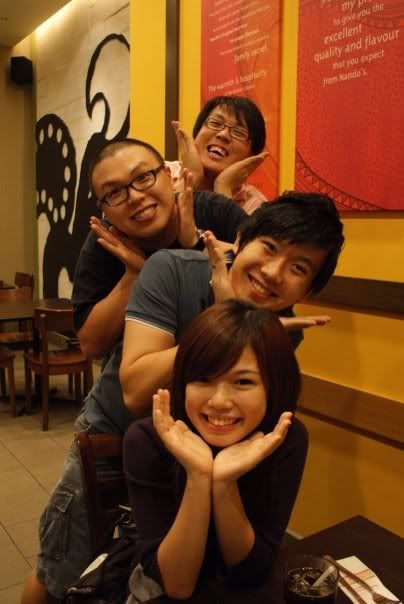 The class flowers~ hahaha.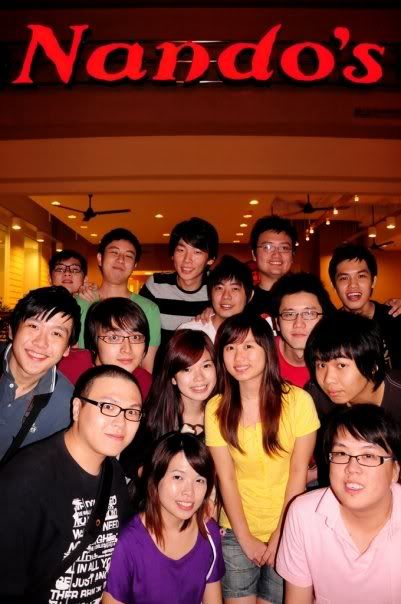 One of our last few dinners I guess =(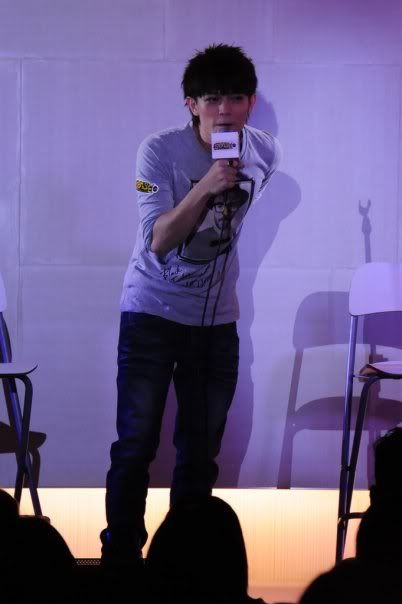 Oh btw, Lim Yu Zhong was performing at a cafe on that same day! He had make-up on and looked a bit wierd =S
After dinner, guys went to play some snooker. Us girls, well, likes to take pictures. Or, have our pictures taken. hahaha. (Don't worry~ only posted 1,2,.. 3 ok!)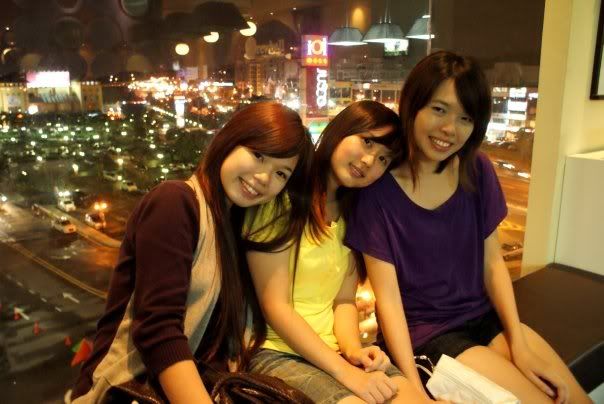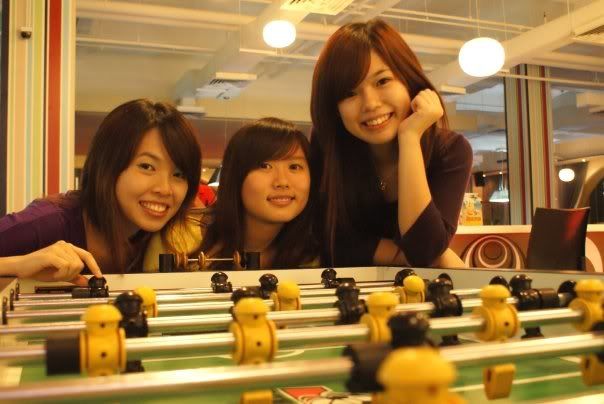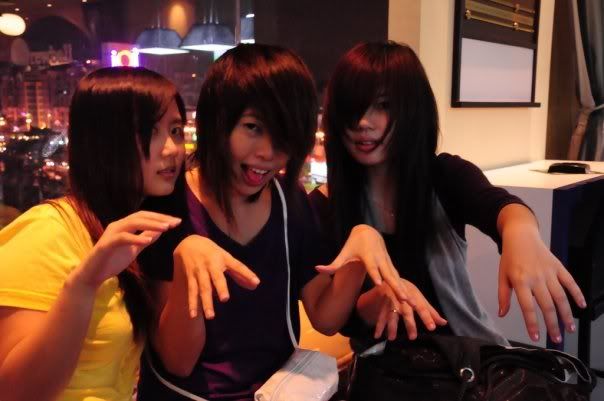 In conjunction. =P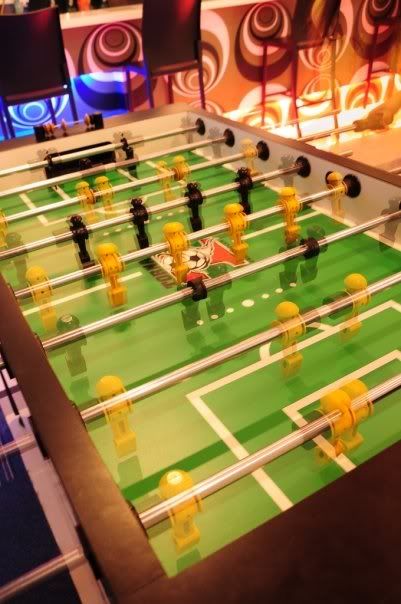 Foosball time!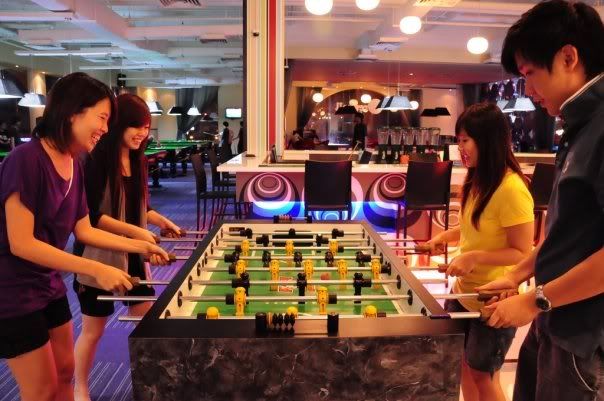 Was my first time playing foosball, not bad for a beginner =P Pawned Loong at one point~ wahahah~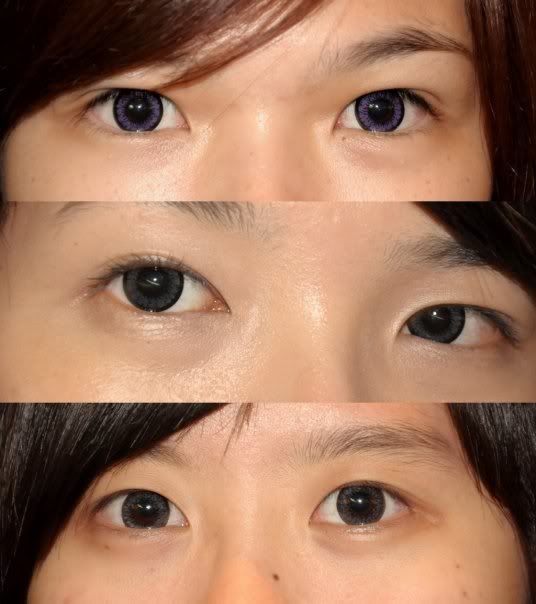 Yes we had colour contacts on, and I personally like Penny's Purple ones! So unique~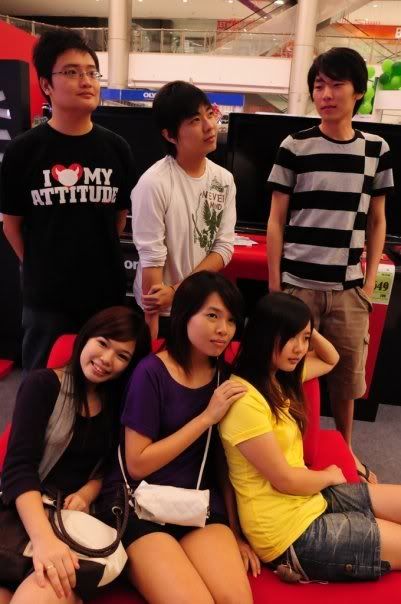 Hanging around~ Rampas the red chair from CW. hahaha. He said that the chair looks nice for pictures and we were like 'Oh yeah ha!' and sat down, totally covering the chair. lol.
Mamak as usual, chatted till 3am, was really tired but still enjoyed it. =)
So, that's how I celebrate my Halloween? Hahaha. Goodnight!