current mood: =D
Just came back from celebrating angugu's birthday, even though it's just a small surprise, but hope she liked it!
We seriously are a bunch of indecisive people. Took us so long to choose just a simple cake! We've been standing at the counter for 10 minutes discussing which cake should we buy. And finally, when we actually decided on a cake and wanted to buy it, somebody took it away! Just in front us, we saw the cake being purchased and packed, and brought away by some other customer. SWT! Took us another few minutes to regret not choosing faster, and another 5 minutes to decided on the second cake. -_-
Anyway, after the hectic chore of cake choosing, we prepared everything and went over around 11:45pm.
Penny was already prosecuting her plan of keeping angugu in her room. We quietly sneaked into the house *forgot to silent my phone and penny kept messaging me! fumbled and quickly silence it cause getting starting to get dirty look from the guys -_-* but luckily they didn't hear me. we wanted to light the candle at the stairway so all the candles won't melt by the time we reached her, but halfway up, we suddenly heard angugu opening the door! We scrambled like lost mice to whatever hiding place we could find *at the storeroom*, but poor CW who was holding the cake had no place to hide, thus he quickly when to the nearest corner *which was just beside the staircase. lol* holding the cake high up as possible and try to be invisible. hahaha. Anyway, angugu didn't suspect anything and went back to her room *phew*
A reenactment of where CW was trying to hide! Can't imagine what would happen if she really came down. lol
Anyway, it was quite a success! Too bad she changed into her LKW cloths d. Cause previously she was wearing a lovely off shoulder dress!
Birthday girl!
group pic, but serpin not back yet! late! XD
give him a solo pic lah. since he's not in the group pic. lol
Didn't bother with the plates and all, just dug in!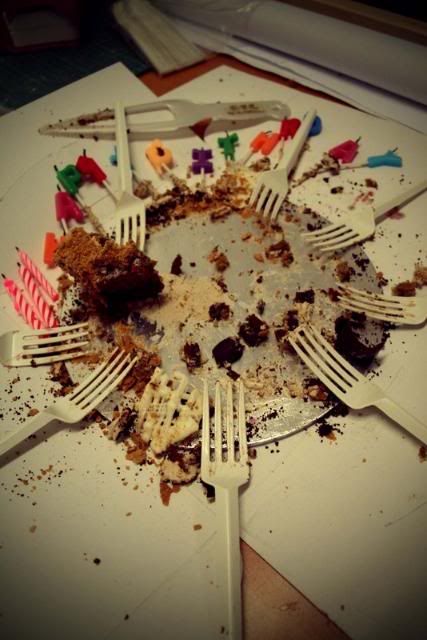 *burp* you can actually finish a cake by using this method! lol.
candles bought from malacca 2 years ago! hahaha
Lastly, and again, happy birthday chienling!